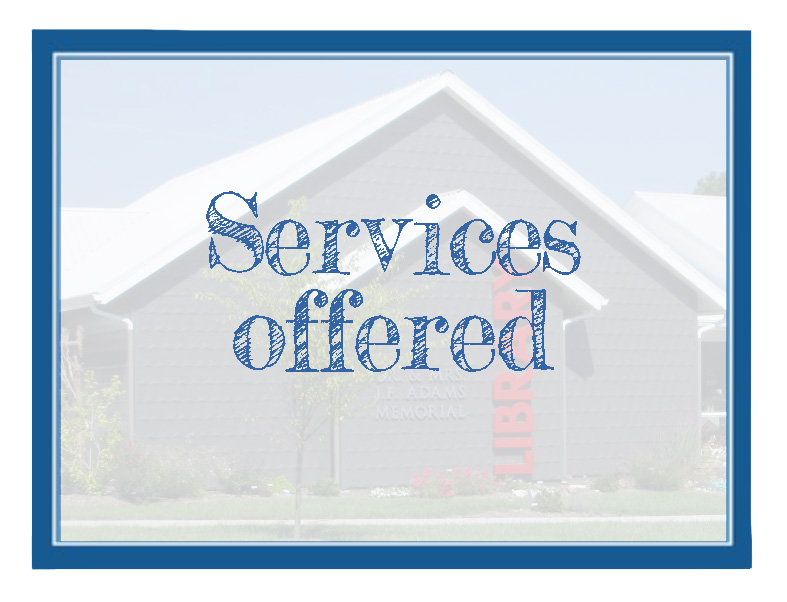 BOOKS & AUDIOBOOKS: Books are checked out for a 2 week borrowing period. If books are not on a reserve waiting list, then books may be renewed 2 additional times for 2 weeks each time. There is a checkout limit of 25 books per patron. Fines are 10 cents per day, per book.
MOVIES: DVDs can be checked out for 1 week. There is a checkout limit of 5 DVDs per patron. If DVDs are not on a reserve waiting list, then DVDs may be renewed 1 additional time for 1 week. Fines on movies are $1.00 per day per movie.
REFERENCE, LOCAL HISTORY & GENEALOGY MATERIALS: Materials are available at both branches. Materials are non-circulating, and are available for in-house use only. Please sign-in at the entrance to the Genealogy Room.
RESERVES: Reserves can be placed at both locations and/or online. Reserves are held for 7 business days.
COMPUTER & WI-FI ACCESS: Computers and WI-FI are available at both branch locations. Public Access Computers (PAC), have no limit on use, unless another patron is waiting, then a two-hour limit will be implemented. Access is without charge and is on a first-come serve basis. Printing is available at 10 cents per page; black & white copies only. All printing is sent to a central printer in the lobby. Everyone must comply with the library computer policy. Computers shut down 10 minutes before the library closes.